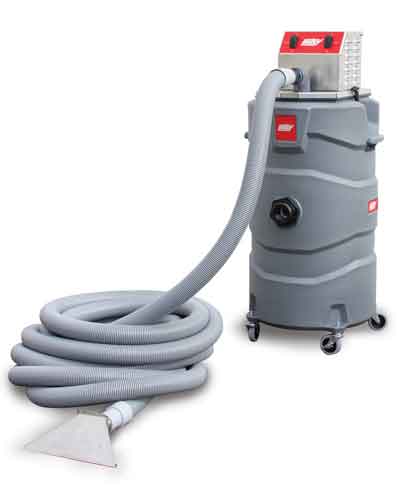 Stop wash water from flowing down a drain or away from your area by collecting the wastewater from pressure washing. As EPA laws become more prevalent and strive to conserve water quality, contract cleaners and construction sites will need to recover their wash water and runoff.
The Hotsy RC unit is capable of recovering up to 30 GPM of water with a 3-stage vacuum motor delivering 100 CFM / 100″ sealed lift vacuum, and transferring that to a holding tank via a built-in discharge pump. Be fully in control of water flow with optional water dikes and drain covers to stop water from flowing down a drain or away from your site.
Unit comes standard with a 50′ vacuum hose and scupper head. Runs on 120V, 15A. Rated for water up to 120 degrees F.
This Unit is ETL-certified to UL-1776 Safety Standards.
Warranty:  Overall Unit – 1 Year
OPTIONS:  Caster Wheel Kit,  Discharge Hose Kit,  Rotary Surface Cleaner with Vac Port, Drain Covers, Water Dikes

Data effective January 1, 2023.  Specifications and product descriptions subject to change without notice.